Every year around Easter time, Stardoll hosts a few events and competitions to get users into the Easter spirit. Although some of its members do not celebrate Easter, it is still a large part of its player base, and so it has become an important part of the year for the website. Stardoll has been running Easter events since April 2008, and each year usually consists of giveaways, competitions, discount Stardollars and egg hunts. The event is typically featured as its own page on the Stardoll website, with written articles in the Star Blog, and additional Easter themes in The Vote.
2008
Not much is known about Stardoll Easter events prior to April 2010. Looking through archived articles in the Star Blog, it can be dated back to April 2008. These articles are no longer accessible, but despite this, the first Easter event held featured a dress-up competition posted by Isobel.Stardoll. Users were asked to create an outfit that represented Easter, and submit it to the contest page. This is the only know event held for Easter in 2008. The prize for winning is also unknown, but may have been Stardollars.
2009
2009 was very similar to 2008, in which there is very little information about the Easter events held in this time. Another dress-up competition was held by Isobel.Stardoll, and this is the only recorded evidence of anything Easter related during that year. The prize for winning is unknown, but may have been Stardollars.
2010


In 2010, Stardoll began to make small steps in creating a semi-successful Easter event. During this time, free gifts and competitions were typically separated between countries and languages, so the only recorded Easter giveaway was a Purple and Yellow Plant exclusive to Polish members. Back in those days, users from other countries would use proxy servers to gain access to Stardoll using a Polish server, which gave off the impression that their accounts were from Poland, hence gaining them access to the free item. This was a very common way for users to retrieve free items that were not available in their country. This has since been phased out, as all freebies are available to all users from all countries and languages. As well as the Purple and Yellow Plant, a piece of grass and a small bunch of eggs were also given away. Each of these items were also available in the Starplaza for users to purchase.
2011
In 2011, Stardoll did not host an Easter event. There were no Star Blog articles, no competitions and no freebies during this time. User-created competitions were the only things available, but this was typically done through clubs and were not official Stardoll-made contests.
2012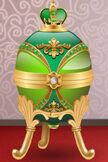 2012 marks the year that Stardoll began to get serious with their Easter events, with the release of Faberge Eggs. Faberge eggs were a vintage style egg, typically decorated with jewels, diamonds and intricate designs. These eggs were created between 1885 and 1917 for the Russian Imperial family. Stardoll's version of these eggs were released through the Epiphany store, which meant that they were only available through purchasing them via the Starplaza. Each floor in the shop represented a different style of egg.
2013
In 2013, Stardoll began to make their Easter events more appealing and exciting with the introduction of a campaign page. This page was made exclusively for the event which featured an offer called 'The Easter Pass'. This offer was for Superstar members looking to top up their membership, or any non-Superstar members looking to become one. Anyone who purchased The Easter Pass received an additional 60 days of Superstar membership, 333 Stardollars, 333 Starcoins and 10 gifts. The gifts that users received were actually items from Velvet Orchid, Millionaire Mansion Fashion, It Girls, Windows On The World and Rio Chicas, which were already available in the Starplaza at the time. This made the gifts feel a little less exclusive, and it was not a very popular buy due to its lack of unique gifts.
2014
In 2014, Stardoll's Easter event consisted of an enormous week-long egg hunt. Users were asked to find all the eggs throughout the website, with a total of 21 eggs needed to be found. The only way users would receive an Easter gift was to find all 21 eggs. Each day for a week, 3 eggs were placed randomly across the website for users to find. This meant that users had to come back daily to keep up with the changes. After all 21 eggs were found, players received a bunny hoodie, bunny ears, bunny heels, carrot earrings and a carrot purse. In addition to this egg hunt, a dress-up contest was also included, asking users to create their best Easter-inspired outfit. The winners received Stardollars as a prize.
2015
In 2015, Stardoll introduced the Easter Gift-O-Meter. Purchasing items makes the Gift-O-Meter go up, and with every milestone, a new gift is unlocked. Users had to spend up to 200 Stardollars in the Starplaza to receive every single gift. For users who could not afford to spend 200 Stardollars in a week, an Easter egg hunt was held. This time, the eggs were replaced with carrots, and when it was found and clicked on, users received a gift. Every day, a new gift was released. A dress-up competition was also held in this time. 5 users were rewarded with Stardollars for winning. An exclusive Instagram contest was also announced, with the prize allowing the winning user to be in charge of Stardoll's Instagram account for a day.
2016
The most recent Stardoll Easter event for 2016, titled 'Easter Surprise', was held in March of this year. A Gift-O-Meter was not included, but an Easter egg hunt was. A new gift was hidden every two days, with each egg being strategically placed across the website for users to find. With only 4 gifts available, users received a Green Satin Jacket, a pair of heels, a black purse, and a Pretty Spring Flower Dress.
Additionally, all users who purchased a month of Superstar received an exclusive posed outfit that came in Light, Medium and Dark. This was titled 'The Golden Egg' and due to it being a pose, it was a popular buy for many users. An Easter egg design competition was also held, including a dress-up competition for users looking to show off their Easter style. The winners of each competition received Stardollars. The event itself lasted for a week.