Miss Sixty was a store in the Starplaza that was first released in September, 2009. Miss Sixty is based on the real life Italian fashion brand with the same name, which was founded in 1991. The brand is known for producing denim original cuts and casual wear styles designed specifically for females. Available worldwide, their products include jeans, tops, skirts, sweatshirts, jackets, bags, shoes, sunglasses and watches. The Stardoll version of this store was very similar, and continued to release collections each year until its removal on April 2nd, 2015.
The first collection, known as the Miss Sixty Spring/Summer Collection of 2009, was announced in July. Before its official release, many of the items appeared in the Starplaza beforehand, and resulted in users buying the items before it was in store. This was fixed only 15 minutes later, but some users had already purchased the mysterious items. The store was taken down for an extra 2 months, before being released with four floors in September 2009.
However, when the store was officially released, the mysterious items that users had purchased were no longer in the store. The tags for these four items were changed to 'DO NOT USE', and were never re-released back into the Miss Sixty collection. Any items found with this 'DO NOT USE' tag are still available to trade, but they are considered very rare.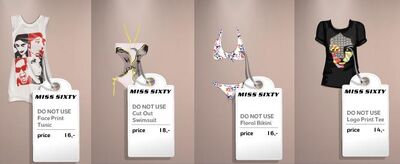 Miss Sixty continued to stay in the Starplaza until its new Autumn/Winter Collection, which was released on the 12th of October, 2011. The pieces in this collection were based off their real life versions. In May 2012 the following year, another collection of Miss Sixty was released with three new floors. The second Autumn/Winter Collection was released only a few months later in October 2012. All of the items from each collection stayed in the Starplaza until its removal on April 2nd 2015, making it the largest clothing brand on Stardoll with a massive 15 pages of clothing in total.