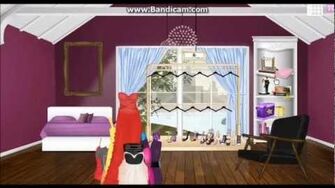 A
scenery
is an aspect of Stardoll that lets users create their own scene using backgrounds, props, costumes and dolls (friends and celebrities). Sceneries have been around since the creation of Stardoll.com, and have since undergone major changes to its design, usability and interface. Additional backgrounds, dolls and themed decor items are added frequently, usually to announce certain holidays (such as Valentine's Day, Christmas and New Years). Users can vote for their favourite sceneries by rating it 5 stars.
There are many different backgrounds to choose from when designing a scenery. Currently, there are 31 different options, ranging between comic strips, landscapes and room interiors. These backgrounds are an important part of a scenery, as it creates a story that the user can work from. Each theme comes with their own set of decor, clothing and accessories. Creating a scenery is free for all users, but non-Superstar members can only create a maximum 10, whilst Superstar users can create up to 100. Once a scenery is saved, it cannot be edited.
Club Sceneries
Club sceneries can be made exclusively for a particular club. This means only members will be allowed to see it (or the public, depending on the clubs privacy settings). All members are allowed to create a scenery in a club, but admins and managers have the right to delete them if they choose. The scenery will not show up on a users profile, but instead be bound to the club and displayed that way. These sceneries cannot run in the Best Scenery competition, but can be favourited by a manager or admin, which means it will be displayed on the front page of their club.
Achievement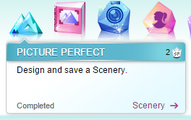 For newer users, creating their first scenery awards them with the achievement 'Picture Perfect' and 2 Starpoints. This is considered a 'Core' achievement and does not reward the user with many Starpoints, but it makes users aware of the feature and how to use it.
Best Scenery Competition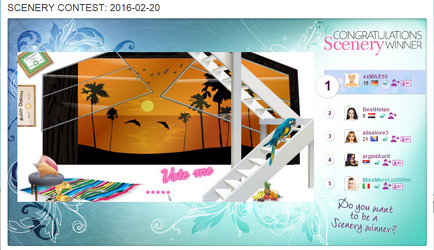 Every 24 hours, the highest voted scenery of the day gets featured on the front page of Stardoll.com. Users can vote for their favourite scenery by visiting a users scenery page and selecting the 5 star option. Running for Best Scenery typically requires broadcasting and commenting to catch the attention of other users and ultimately getting them to vote for your design. The Top 5 sceneries are featured, but only the first place winner scores a prize. Winning Best Scenery awards the user with the competition achievement 'Set the Scene' and 25 Starpoints.