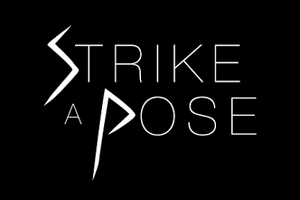 Strike a Pose is a limited edition store in the Starplaza that is periodically released with new collections. All the items in this store are posed, which means the arms and legs of the doll are altered to give off the idea that the doll is posing. This has long been a request by users for many years, and has since become one of the most popular limited collections to date. The posed looked is achieved by the clothing themselves, which cover up the limbs with their own posed looks. The stock is limited, much like LE, Young Hollywood, Runway and Antidote. Currently, all users are able to purchase items from this store, and all items cost Stardollars. There are a total of six collections.
COLLECTIONS
The first collection was released on February 24th, 2014. Before its release, Stardoll released a teaser on their Snapchat story, warning all Superstar members of exclusive VIP access to a brand new store in the Starplaza, followed by everyone gaining access the next day. This collection featured general posed items in neutral colours, with poses such as waving, blowing a kiss, crossing arms and taking a selfie. The most wanted item in this collection is the New Yorker Blazer Denim, and was the first item to sell out. 
Due to the huge success of the first collection, the second collection of Strike a Pose was released 7 months later on September 5th, 2014. This was the first collection to feature male clothing, and the first ever sitting pose. This Autumn and street-style themed collection sold out incredibly quickly, and featured many different overcoats. Poses such as holding bags, animals and model poses were also released.
The third collection of Strike a Pose was released January 16th, 2015. This winter themed collection featured a couple holding hands, chunky knits, thick coats and warm beverages. A mysterious pair of Strike a Pose jeans were seen in the catalog of the Starplaza, but were not shown in the store itself. 
The fourth collection of Strike a Pose was released on May 8th, 2015. The collection has been described as runway chic, with poses inspired by gown designers and famous films. Each pose was inspired by Zuhair Murad, Elie Saab, Maison Martin Margiela, Jean Paul Gaultier, Alexandre Vauthier, Audrey Hepburn and more. The interior itself was inspired by the Metropolitan Museum of Art.
The fifth collection of Strike a Pose had a beautiful spring theme full of flowy dresses, large sun hats and billowy hair. This collection was released on July 31st, 2015. It was the first collection to feature different skin colours, coming in three different shades: light, medium and dark. This was to cater for all different skin tones within Stardoll, and was an improvement to the grey and black arms that were used in previous collections. Due to such a large release, many of the pieces were extremely limited, with only 300 units available for some. The prices ranged between 80 and 130 Stardollars. 
The next day, on August 1st 2015, Stardoll released a restock of all the light skin toned poses, due to how quickly they sold. Each piece had 400 units, making it more available for users who missed out. The items themselves have different ID numbers to the original collection, and are also renamed with 'restock' in the title.
The sixth collection of Strike a Pose was released on December 4th 2015. This was a holiday release inspired by snow, winter and Christmas, and featured many Christmas themed poses, such as holding gifts, hanging Christmas lights, unwrapping presents, and more model poses. This collection also featured another sitting down pose, but did not include any male pieces. Two of the items were modified during its release due to some issues with its graphics. Just like collection five, each piece had its own skin tone (light, medium and dark). Many of the pieces were extremely limited, with up to 200 units available of each. The prices ranged between 15 and 145 Stardollars. A mix up occurred during its initial release, in which Yoga Leg Pose Medium had been set at 450 Stardollars, whilst the other skin tones in its design were only 95 Stardollars. This was fixed a few hours into its release. 
The seventh collection of Strike a Pose was released a few months later on April 2nd, 2016. This was a Spring release that featured a sunny street chic style. The poses ranged between a sweater with a cup of coffee, a handful of shopping bags and roses, a photography pose, and even a 'showing off your dog' pose. The 'Just Doing Some Shopping' pose was the first item in the collection to be sold out, in only an hour of its release. Just like collection five and six, each piece had its own skin tone (light, medium and dark). The prices ranged between 27 Stardollars and 126. 
The eighth, and most recent collection of Strike a Pose, was released June 18th, 2016. This was a collection released just in time for Summer, and featured many long flowing dresses and shirts. Various different poses were released, such as holding a dog or a cat, adjusting sunglasses, holding a phone, and holding hands. The poses in this release were not as impressive as the poses from previous collections, since much of the variety came from the different clothing items instead. Each pose came in three different skin tones (light, medium and dark), Currently, there are some items still available for purchase in the Starplaza.